Ok, so we've touched on a couple of wireless 1080p solutions here at Tech n Tings. As mentioned before the resource of eliminating wires and mess is not only convenient but attractive. As a result, an invaluable resource.
Now these devices while extremely useful appear to be sparse on the market. I can only guess this is because wireless streaming of 1080p video and Lossless audio haven't really been in demand. Probably more because people haven't really known about the option. Here we have the brite-View Air SyncHD BV-2322.
brite-View Air SyncHD (BV-2322)
The best way to stream 1080p Wirelessly
Imagine connecting any HDMI-ready device to your HDTV with an invisible 100 feet HDMI cable. The Air SyncHD can transmit any High-Definition content from your cable box, Blu-ray player, or HDMI-ready computer placed anywhere in the house, to the HDTV. There is simply no comparison to the Air SyncHD - it is the only and the best way to stream your 1080p content wirelessly
Hybrid Transmission (Loop-through Connection) Helps You Save Money on 2nd
Cable Box or Blu-ray Player
The Air SyncHD can transmit HD video/audio through wired and wireless connection synchronously or separately.
Now with brite-View's Hybrid Transmission technology, you can connect the Air SyncHD transmitter to your HDTV and the cable box in a living room via HDMI cables, and watch exactly the same cable channels and TV shows on your 2nd HDTV connected to the Air SyncHD receiver.
Save money on the 2nd cable box, set-top box, Blu-ray player or HTPC with the Air SyncHD now.
With brite-View's exclusively transmission enhancement technology, the Air SyncHD is capable of long-distance transmission (up to 100 feet). By pressing the "WIDE" button on the remote, you can boost the transmission distance up to 100 feet for 1080i content, or 66 feet for1080p content. It will work well for backyard and outdoor theaters, or the 2nd bedroom TV. You only need to connect the Air SyncHD receiver to your 2nd TV to get HD quality videos from the A/V source near the 1st TV.
The Air SyncHD is a universal HDMI solution. It's compatible with any HDMI- ready equipment such as the cable box, set-top box, Blu-ray player or computer, without having to install any software.
Just plug & play- the Air SyncHD will automatically detect the signals from your HDMI device and transmit the signals to your HDTV wirelessly to establish clean and hassle-free HDMI connection.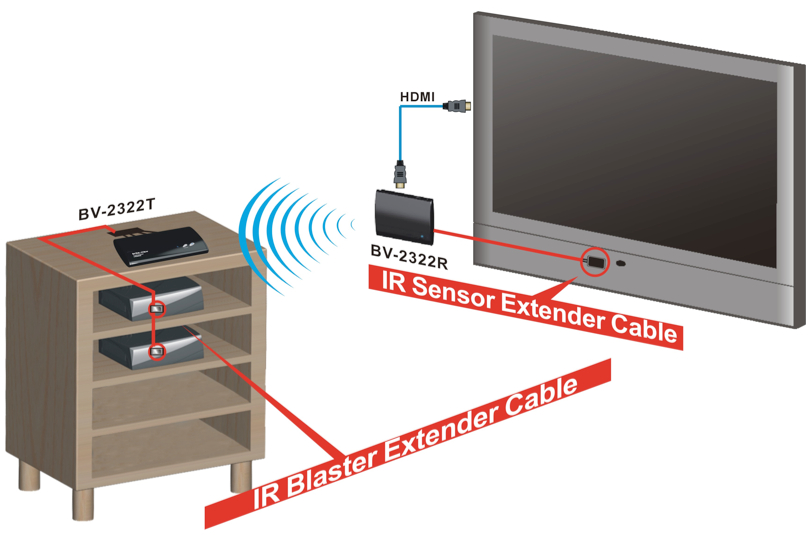 Support IR Blaster & Extender
An IR blaster cable (to be attached to the Air SyncHD Transmitter and the A/V source) and an IR sensor cable (to beattached to the Air SyncHD Receiver and the 2nd TV) are included in the package so you can operate the remote control comfortably in front of your 2nd HDTV, instead of having to point the remote control directly at the A/V source.
Part 2 & 3
In summary,
Product Features
Air- bridge your HDMI-ready device and HDTV in uncompressed 1080p HD quality
Hybrid Transmission (Loop-through Connection): transmit HD video/ audio signals through wired and wireless
brite-View's Exclusive Transmission Enhancement Technology: up to 100 feet (1080i) / 66 feet (1080p), line-of-sight; Support up to 1080p@ 60Hz HD quality resolution and 1080i @ WIDE mode
IR technology enabled for easy remote control operation
Plug & Play: no software installation required ;Less than 1ms latency making it ideal for PC and online gaming;
Again, the benefits of this product are endless when you think of the convenience it creates in not requiring a set spot for your components. The ability to save on a cable box for a second TV is a bonus as well. The cost of that box could pay for the product while providing the wireless streaming capability of your other devices.
As a result, you need the range?......this is what you'll need.